With Intershop Commerce Suite, you can showcase your brands online; open up new target groups, channels, and markets, or digitize every aspect of your sales processes.
This all-in-one package features Commerce Management, Order Management (OMS), Product Information Management (PIM), and Experience Management (EX)—which includes everything you need to create a personalized shopping experience.
Intershop Commerce Suite is a multi-client solution you can use to create digital marketing concepts for diverse business models (B2B, B2C, B2B2X), sales channels, and touchpoints.
Powerful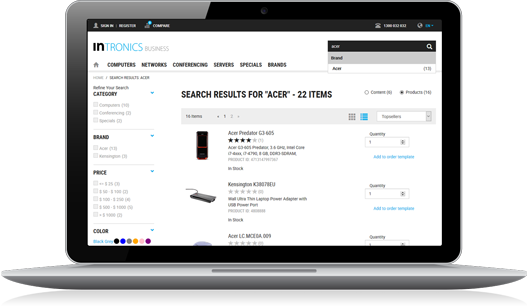 Scalable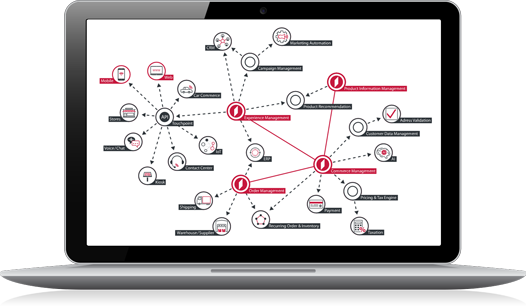 Quick and Easy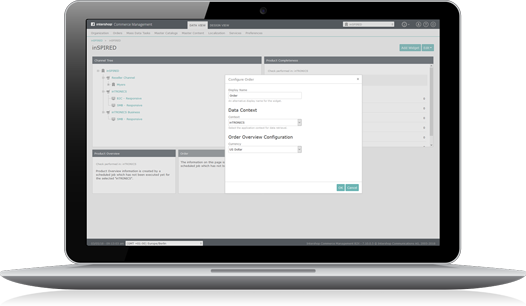 Intershop Commerce Suite
Commerce Management
The digital engine for your online business—core commerce functionality for all sales channels and on all touchpoints.
– Advanced shopping cart and order functionality makes the purchase process easier for all touchpoints.
– Diverse pricing and discount options: provide your customers with personalized offers at any time.
– Promotion and campaign management for personalized incentives across all touchpoints.
---
Intershop Commerce Suite
Experience Management
Tailored offers and personalized content for your customers—across all touchpoints.
– Create your own new and exciting shopping environments easily and intuitively with Design View (WYSIWYG editor).
– Integrated A/B testing shows you if new page layouts, content, promotions, and pricing meet customers' needs and expectations.
– Using our extensive templates, you can create personalized content and impactful campaigns quickly and conveniently.
Intershop Commerce Suite
Product Information Management
Specially developed for the demands of digital commerce—our solution enables you to create a seamless shopping experience with consistent product data across all digital touchpoints.
– Control and manage your catalogs and product data for all digital channels from a single location.
– Use our approval workflows and validation rules to optimize your content processes and product data quality.
– Maintain and manage structured and unstructured product information to create powerful product descriptions.
---
---
Intershop Commerce Suite
Omni Channel Order Management
Combine your warehouse locations, offline stores, service centers, suppliers, distribution channels, and back-office or partner systems to create a powerful, coherent, and flexible omni-channel e-commerce solution.
– Meet customer needs across every channel and combine your inventories into a single resource.
– Orchestrate your omni-channel order processes and let customers decide how, when, and where they receive their goods.
– Save time and money by automating complex order and return processes.
---

Intershop Commerce Suite for B2B
Extended Functionality for B2B Commerce
A B2B e-commerce solution comprises much more than just an online store. Its primary role is to build your relationship with your customers. Use it to offer digital added value, comfort, and service in ways you never imagined before.
Personalized e-procurement processes
Enable business customers to manage their own company profile; control company-wide or departmental budgets, cost centers, and approval policies; and integrate your catalog via OCI.
Inquiries and quotes
Enable business customers to request or negotiate special pricing or special terms and conditions online.
Personalized communications with your business customers
Personalize your business customer experience with tailored content, product recommendations, price lists, special offers, master agreements, and discounts.
Fast access to key information
Central customer account with user, account, and contract information; current and past orders; approved quotes; invoices; and budget management.
Performance
Hundreds of thousands of products, orders with hundreds of items, and thousands of price lists—Intershop Commerce Suite has the power you need.
---

" We are building our success on reconciling
production, design and marketing requirements with existing and new customer requirements."
FEHIME GARAN, SENIOR E-COMMERCE MANAGER AT PENTI
---